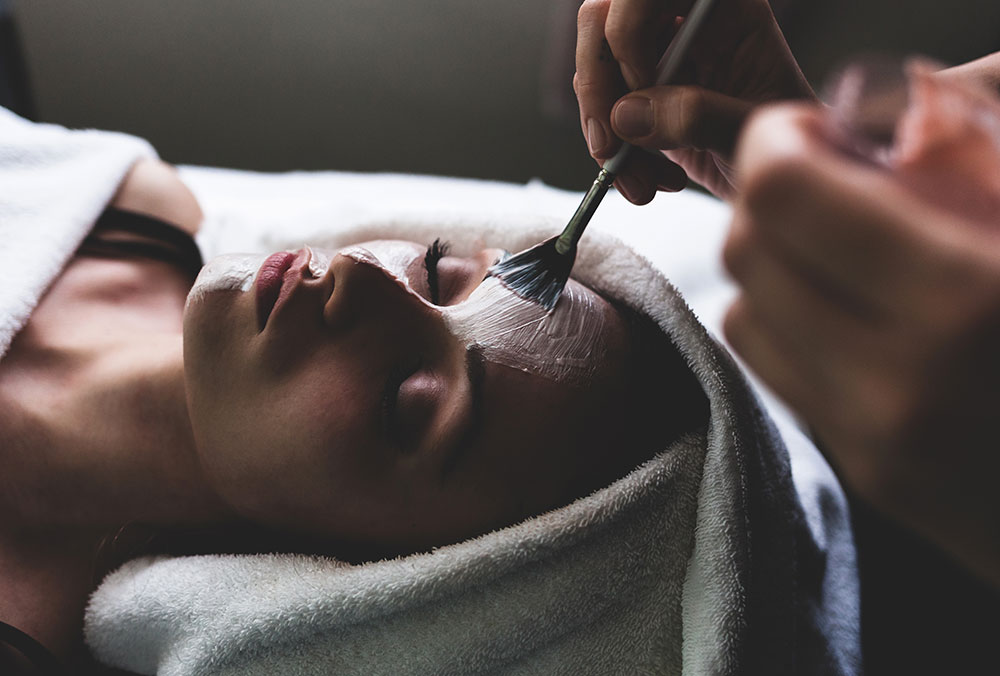 Facials and Peels
Using only the best physician strength products, or knowledgeable estheticians will consult with you to determine exactly what your skin needs at the time of treatment.
Customized Facials
To cleanse, rejuvenate, resurface, hydrate, and protect.
Custom Facial
Simply put…we do whatever your skin needs at the time, includes ultrasonic cleanse, exfoliation, extractions if needed, steam, massage, and custom mask. (of course using only the finest products we proudly carry; Obagi, Jan Marini, and Hylunia/HyMed.)
60 min
Vitamin C Facial
Our Classic Facial using Vit C with every step. Accent on exfoliation and stimulating new cell growth.
60 min
Deluxe Facial
Custom facial plus extra time for extra pampering.
80 min
Derma-planing
includes a lactic acid peel for the ultimate exfoliation, addressing hyper- pigmentation, acne scarring. Also removes superfluous hair on the face
(Can be done without a peel for removing unwanted vellous hair on face)
60 min
Express Facial
Beautiful skin on the go – all of our facial goodness to accommodate your busy schedule.
30 min
Teen Clean
We consult and design a treatment plan. This includes a treatment, usually a salicylic or glycolic peel with extractions if needed
40 min
Peels
Address sun damage, acne, rosacea, lines & wrinkles, coarse texture, and discoloration.
| | | |
| --- | --- | --- |
| Glycolic | | Large pores / exfoliation |
| Salicylic | | Acne and fine lines |
| Vitamin C | | Skin tone / texture / redness |
| TCA | | Medium-deep level peel, reduces pigmentation, acne scars and fine lines. |
| Jessner | | Fine lines / pigmentation / acne scars |
| Mandelic | | Ideal for hyper-pigmented skin |
| Microdermabrasion | | Exfoliate and stimulate |
| Micro with Peel | | Exfoliate / stimulate / resurface |
*Discounts given with peels done in a series.
Facials Add-Ons
| | |
| --- | --- |
| Peppermint Scalp Treatment | While you are relaxing, allow us to massage your scalp using energizing peppermint oil |
| CBD Oil Infused Massage | During your facial, enjoy a decadent CBD Oil infused neck and shoulder massage. This powerful plant based oil, from the cannabis plant (yes, legal. no, you won't get high!) is great for pain, inflammation, and deep relaxation. |
| Salt Scrub Foot or Hand Treatment | We gently exfoliate your hands or feet using salt from the dead sea. exfoliating away the dead skin while infusing minerals for healthy new skin, combined with a reflexology massage. |
| Brow or Lash Tinting | |
| Lymphatic Eye Treatment | Enjoy the experience of sonic vibration! using the Clarisonic OPAL technology we treat your eye and sinus area….topped with a vit C serum for skin tightening. |
Body Treatments Add-Ons
| | | |
| --- | --- | --- |
| Body Bronzer | | Exfoliate your body with an Ayurvedic body brushing technique to rid dead skin before Jane Iredale's Tantasia, a natural bronzer, is applied all over your body. Add 30 minutes to your service. |
| Restorative Salt Glow | | Allow your skin to be exfoliated with the used of fine Dead Sea Salts full of minerals to feed your skin. Followed by an efflorage massage using Hylunia's Healing and Restorative Cream. Add 30 minutes to your service. |